Why is 1050 used as aluminum channel letter coil
aluminium sheet roll > 07-30-2020, 03:32 AM
Among 

alloys of aluminum coil used for channel letter

, 1050 is the most popular one. Why is 1050 used as aluminum channel letter coil? Because it's light, corrosion resistant, heat conductive, scratch resistant, plastic and adaptable to color coating, bending etc.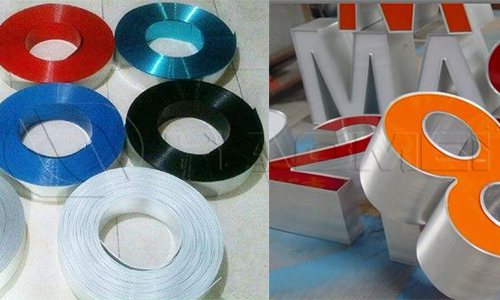 1050 aluminum coil is among the lightest grades in aluminium sheet coil family. Its density is close to pure aluminium, 2.7g/cm3, much smaller than either copper or iron. This proves to be a great advantage as a channel letter material, for most finished channel letters are fixed onto suspended frames which are expected to be as light as possible. Just as lightness, corrosion resistance proves to be another necessary requirement for an 

aluminum coil channel

. Imagine how many winds, rains, snows and frosts the letters and frames would have to withstand in the open air. That's why all channel letter aluminum coil strips are color coated and even anodized. In spite of its naturally good corrosion resistance, mill finish 1050 alloy coil is not strong enough to fulfil the requirement. Coated surface of 1050 channel letter coils are scratch resistant, too. Anodized films and paint layers are so hard that they remain intact under most common forces of scratching. In addition, the color has been so skillfully coated as not to influence the bending properties of the coil. This enables designers to simply bend the coil strip into wanted letters and shapes by bare hands.
Haomei supplies 1050 aluminum channel letter coil of thickness from 0.4mm to 1.0mm (most regularly 0.6mm) thick and 30 to 100mm wide. The length of the coil can be customized (100m rolls most popular). The surface can be brushed if necessary. Welcome to contact us at april@aluminumhm.com for a price!

Reprinted from 
https://www.aluminum-coil.net/why-is-105...-coil.html