What is the difference between aluminium 6061 T651 rolled plate and Cast Tool & Jig Plate?
This is probably the most commonly asked question. The quick answers is 6061 T651
Aluminum plate
  is a rolled and heat treated plate that gets it's physical properties from the chemistry, the rolling and elongating of grain structure, and the heat treatment process. A Cast Tool & Jig plate is produced by casting metal. There is a homogenization process that helps with grain uniformity, but there is no secondary rolling or quenching process. The 6061 T651 
Aluminum plate
will have residual stress as a result of the rolling and heat treating process, but also has higher strength. The Cast Tool & Jig plate products are much lower in strength, but also much lower in residual stress. Most Cast Tool and Jig plate manufacturers guarantee their specified flatness even after machining the part.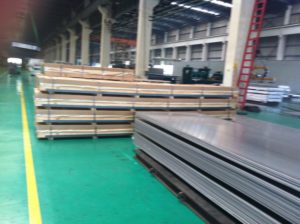 If there is a need for strength in your part design, then you should not consider Cast Tool & Jig, plate. However, if strength is not a concern, Cast Tool & Jig plate will offer much better dimensional stability and flatness to your finished part.