Thin aluminum strips
refer to aluminium tapes of thickness between 0.006mm and 0.20mm. The width usually ranges from 40mm to 1600mm. Alloys include 1050, 1060, 1070, 1100, 1200, 1235, 3003, 3004, 3104, 5052, 8011 and 8079 etc. Thin aluminum strips are used in cables, transformers, composite packaging, air conditioning, hairdressing, electronic products, explosion-proof products and other products. In comparison with thicker strips like the aluminium edging strip, thin strips are more extensively applied.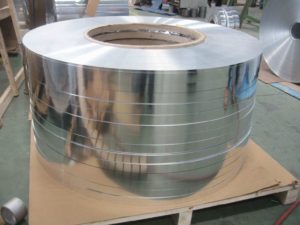 Thin aluminum strips
are light in weight, high in tensile strength and excellent in heat conductivity. They are usually of good surface flatness and smoothness, and most aluminium strip suppliers accept demands for modification of strip edges. While being used in electronic products, the strip has good performances in heat insulation, sound insulation and fire-proof resistance. If made into air ducts, the strip is easy to be maintained. The ducts can be wiped with a simple piece of wet cloth and then become bright and new again. As a material for transformer winding, the strip has a super electricity conductivity second only to copper. When applied for other purposes, thin aluminum strips can even be coated with colors (like as channel letters).
As a professional
Thin aluminum strips
supplier in China, Haomei supplies
Thin aluminum strips
of all regular alloys and thickness. Thicker strips of 1mm, 2mm, 3mm, 4mm and even 6mm are available as well. Welcome to contact us for more information!