PTP aluminum for blister packaging
At present, the packaging of health food, medicine tablets and capsules is more and more common in the form of blister packaging. The aluminum foil used in the blister packaging is a sealing material that is tightly sealed on a rigid sheet of medicinal plastic polyvinyl chloride (PVC).
Almost all products in modern packaging that require opaque or high-barrier composite materials use aluminum foil as the barrier layer. This is because aluminum foil has a highly dense metal crystal structure, which can completely block any gas. It is expected that the packaging used for pharmaceutical blister materials will account for about 60% to 70% of the future pharmaceutical tablet and capsule packaging.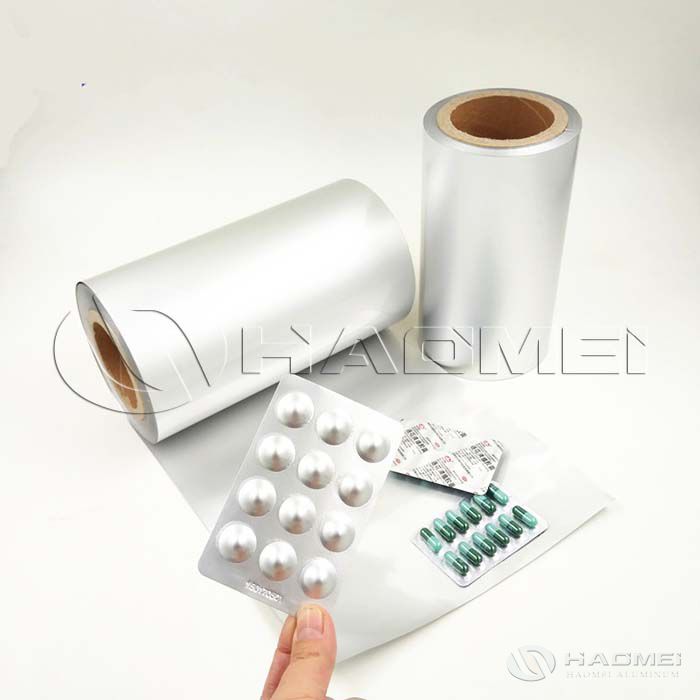 Types
PTP aluminum foil

: it is mostly made of 8011-H18 aluminum foil or 8011-O aluminum foil.
Aluminum blister foil

: It is a kind of cold forming blister foil. It is mostly made of 8021-O aluminum foil, which is used for high-end and strong sealing, moisture-proof and light-shielding drug packaging, with a thickness of 0.04-0.065mm.
Tropical type medicinal aluminum foil

: It is also known as aluminum-plastic aluminum packaging. It is equivalent to adding a layer of cold stamping aluminum foil cover on the outside of thermoformed plastic blister and PTP aluminum foil. 8021-O aluminum foil and 8079-O aluminum foil are mostly used, which is a high-end pharmaceutical packaging.
Aluminum foil for drug caps

: Aluminum foil for drug caps is also called aluminum foil for medical caps. It is mostly made of 8011-H14 aluminum foil or 8011-H16 aluminum foil.
Alloys
Types
Alloys
Tempers
Thickness(mm)
Width(mm)
Application
PTP alumium foil
8011
O/H18
0.016-0.5
100-1700
Capsule cover
Aluminum blister foil
8021
O
0.04-0.065
100-1700
Blister packaging
Tropical type medicinal aluminum foil
8021/8079
O
0.016-0.2
100-1700
High-end pharmaceutical packaging
Aluminum foil for drug caps
8011
H14, H16
0.016-0.5
100-1700
Oral liquid aluminum-plastic composite cap, infusion bottle aluminum-plastic cap, etc.
About Haomei Aluminum
Relying on advanced processing equipment and class D cleaning workshop, Haomei Aluminum took the lead in passing the strict GMP certification, and obtained the registration certificate of 

medicinal aluminum foil

 and medicinal composite film and the three-system management certificate. We have a testing center accredited by the national laboratory CNAS and advanced online testing equipment.