The scratches on surface will affecting the aesthetics and use of the
aluminum profile
. The dents on aluminum profile surface are mostly due to the mould may paste in some extraneous matter, or causing by the roughness of cutter during processing. The scratches on the corner of
aluminum profile
may cause by the cracks of extrusion die, and the horizontal scratches are mainly due to hard objects on the cooling bank when the aluminum profile transported laterally from the slide table to the sawing machine, some
aluminum profile
scratched during loading and handling. The prevention of the scratches is very important for aluminum manufacturers, let's see what methods can reduce the scratches for aluminum profile.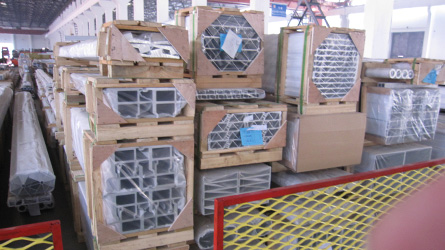 1. keep the extrusion die's work belt clean and flat, as well as the cutters of extrusion die.
2. checked the moulds carefully, do not use a mould with cracks.
3.check the cooling bank and store platform regularly to prevent the hard objects scratching the aluminum profiles.
4.placing some soft parting strip during loading, and remains steady when aluminum profiles are transporting and lifting.
Haomei Aluminum's commitment to Quality, Perfection and Innovation has taken it to great heights. Haomei Aluminum has revolutionized the use of aluminum in the chinese industry. Our ISO certification, currently stands revalidated as per IS/ISO 9001:2008.