How do I measure the flatness of 6061 T651 Aluminum Plate?
ZellaHyday > 07-20-2018, 07:05 AM
The method that is use in most cases is 2 foot short span. I will make the assumption that the

 6061T651 Aluminum plate

 has been purchased to "Type 200® wrought tooling plate or Precision Plate®" specification. If not, standard Aluminum Association tolerance of .100" for thickness of 0.250"–0.624" and .075" for thickness of 0.625"-8.000" would apply (Table 7.18*). A certified 24" straight edge is used in conjunction with certified taper gage or feeler gages and a relatively flat inspection surface.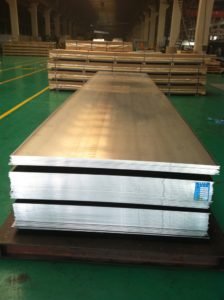 The material to be measured should be oriented with the concave surface facing up. The straight edge is now positioned to span any 2 foot segment of the plate in any horizontal direction. The straight edge must contact the surface of the material at 2 opposite points. If you cannot fit a .060" thick taper gage under the straight edge (between the 2 opposite high points) the material is within Aluminum Association Flatness tolerances.