The PP cap is sealed aluminum beverage bottle, senior wine thread popular on the current market cap, which is characterized by convenient opening, sealing and excellent anti-theft performance, composite food hygiene standards, so in recent years, with the continuous improvement of production development, people's consumption level and the need for export packaging. Its output and sales have increased rapidly. With the rise of the PP cap, the coated aluminum PP cap sheet produced by haomei Aluminum has been successfully developed, put into production and popularized and applied, and achieved great success.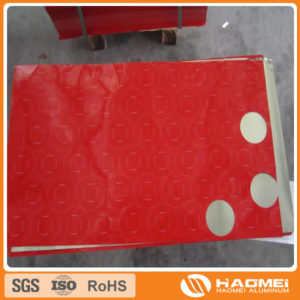 1. Basic requirements of coated aluminum PP cap sheet:  
A. Appearance: White has excellent whiteness, fullness, gloss, bright and beautiful, and high temperature baking not yellowing.  
Color should be bright and bright.  
Gold should be glittering and translucent like gold.  
B. Resistance:  
After baking, the coating should have good adhesion, hardness and deep penetration resistance. The film will not fall off after punching, rolling and pressing.  
C. Internal coating should have good corrosion resistance, good adhesion to the aluminum plate and good adhesive force to the rubber pad.  
2. Coated aluminum PP cap sheet coating process  
Currently on the market common aluminum cap with the white and gold two, the cap process is: after the first solvent cleaning out aluminum to improve the adhesion of coating layer, aluminum plate,
aluminum plate
deep-drawing performance; after treatment can be directly coated with golden oil, baking and curing after punching, incision, thread rolling and pressing different specifications of the change, become.  
If the cap is white, the best first coated with a layer of 25 degrees of base oil, baking and then coated with white paint, this film adhesion resistance, deep drawing performance better. 【Coated aluminum PP cap sheet】  
Pure white or golden cover, usually need no cover light, if printed text or logo logo, need to cover a layer of varnish, to protect the text or pattern, prevent mechanical scratches. In addition, in order to meet health and safety and anti-corrosion performance requirements, the inner surface also need to be coated with a layer of coating