Aluminum plate

 mesh is mainly used for house decoration, handicraft production, high – grade speaker mesh.
Aluminium plate

 mesh is called stretch net again. It is made of the original sheet steel plate with the latest technology of cutting expansion, its net body is more portable and has strong bearing capacity. The most common aluminum mesh is diamond-shaped. Other types of holes are hexagonal, circular, triangular and fish-scale. It is widely used in household, agriculture, construction, medicine, filtration, protection, pest control, handicraft manufacture and so on.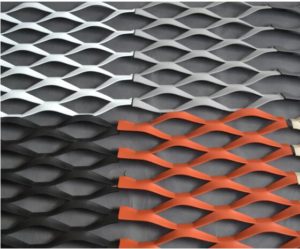 Aluminum plate mesh
Aluminum plate

 mesh characteristics: have no rust, beautiful color, 

aluminum plate

 mesh is used in construction decoration outdoor curtain wall, because of its unique metal material soundness, make it can easily withstand adverse climate factors such as the storm hit, at the same time, easy to maintain, simply from the perspective of the ornamental aluminum aluminum mesh has the characteristics of silk fabric, give a person with visual enjoyment, used for indoor or partition wall, the roof of its material characteristic of the permeability and luster in space more aesthetic pleasure.
The aperture of 

aluminum plate

  mesh is divided into: 0.5x1mm, 1x2mm, 1.25×2.5mm, 1.5×2.5mm, 1.6×3.2mm, 2x3mm, 3x4mm, 3*5mm, 3*6mm, 4*8mm, 5* 12mm, 8*16mm, 10*20mm, 12*25mm, 15*30mm, etc.
The thickness range of 

aluminum plate

 net is 04mm – 1.0mm 0.8mm – 1.0mm 0.3mm – 1.5mm 0.1mm – 9mm
The surface color of aluminum mesh: blue, green, yellow, pink, red, etc.
Aluminum plate

 web application: hotels, airports, railway stations, conference rooms, hotels, stadiums, television indoor decoration, ceiling and outdoor curtain wall, and a variety of vehicles, such as air compressor cooling ventilation hood and mechanical drive shield, acoustics, filter, air conditioning, satellite antenna, outdoor furniture, machinery facilities protection, highway barrier, building decoration, platform aisle of antiskid, etc.
The proprietor of haomei aluminium wants to be born to decorate aluminium board net, hexagon hole aluminium board net, coloured oxidized aluminium board net, flower net aluminium board net to wait a moment. haomei aluminium   sincerely invites new and old customers to visit our factory.